Isle of Man flooding: Quarterbridge pub reopens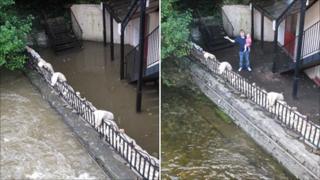 A pub in the Isle of Man which was forced to close after it was flooded on Tuesday has reopened.
The lower floor of the Quarterbridge Hotel in Douglas was flooded when a nearby river burst its banks.
The pub was forced to build a wall of sandbags to keep out the rising water but the downstairs flooded.
Manager Ashley Burgess said: "It has definitely cost us a lot of money but we couldn't have foreseen what happened."
The Isle of Man was hit by more than 40 hours of persistent rain.
Police were forced to close a number of roads, including the Snaefell Mountain road and many back roads, due to surface water, but all have since been reopened.
The island's director of highways, Richard Pearson said: "We've had teams deployed non-stop and we have almost got everything back to normal. They have been working extremely hard and in difficult conditions.
"They have dealt with a number of land slips and drainage problems and the last one to sort out is at Druidale, which should be fixed very soon."
The flooding came just weeks after it was confirmed that the island had recorded its wettest summer since records began in 1947.
The National Sport Centre was also forced to shut part of its raceway, after it was flooded.
Sports development officer Kirsty Cooper said: "The river was incredibly high yesterday but we have all our facilities open today. We just needed to clean all the muck and debris off the track."
Meanwhile, a scaffold erected in Tromode has been safely dismantled after it was knocked down by a tree trunk which had been washed along the fast-flowing river.
The scaffold had been erected on Friday by a local company.
Gill Caine, of Horizon Scaffolding, said: "We were able to safely remove the scaffold this morning but a few pieces had to go straight to the scrapyard.
"We had put off the job by 10 days due to the forecast but we could not have foreseen the extreme weather. It has been put out for the island's Department of Infrastructure to start repointing a bridge."
The work has now been delayed until conditions are deemed safe.