Fire at a garage on Riverside Industrial Estate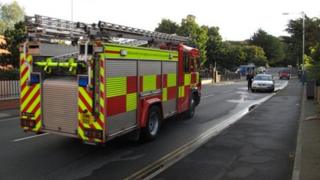 Fire crews have tackled a serious fire at a garage on an industrial estate in the Isle of Man.
Emergency services were called to the blaze, involving an oxy-acetylene cylinder, on the Middle River Industrial Estate at about 02:30 BST.
Station Officer Carl Kinvig said: "It was like finding an unexploded bomb but the situation is now under control.".
No one was hurt in the fire, police said. The Pulrose Bridge was closed but has since reopened.
An Isle of Man Constabulary spokesman said fire crews were damping down and making safe gas bottles at a garage.
Mr Kinvig said that the Fire and Rescue Service were continuing to work to ensure that the water used to douse the fire, which has mixed with oil from the garage, did not enter the nearby river.
Earlier, a 200-metre area was earlier cordoned off by the fire and rescue service.
Paul Gaynor, who runs a welding company on the Middle River Industrial Estate, said: "I've got eight lads here waiting to get in to work and there are 12 businesses like mine."
Reg Hodgson, who works in a nearby furniture store, added: "The traffic has been backed up all morning with people trying to get to work."
Paul Crellin, who works as a welder at the Power Station, adjacent to the fire, said: "You couldn't move for traffic this morning. I was just getting to work and there was a lot of smoke. But they seemed to have it under control quickly."