Big Tidy: Two tonnes of rubbish found in Isle of Man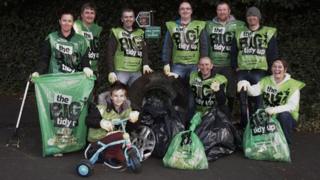 Almost two tonnes of rubbish have been collected by more than 900 volunteers during the Isle of Man's Big Tidy challenge.
The annual campaign, led by Douglas Borough Council, saw schools, volunteer groups and local businesses take part in the all-island campaign.
Council leader David Christian said it showed a "real sense of civic pride".
More than six tonnes of rubbish has been collected since the campaign first began in 2009.
Areas described as litter hot-spots were targeted.
'Gathered momentum'
Mr Christian added: "What began as just an event in Douglas has gathered momentum over the years to become an all-island all-out campaign.
"It puts over the message that dropping litter in our towns and villages is anti-social, a blight on the landscape and will not be tolerated."
This year 300 more volunteers took part in the campaign than in 2011. The tidy-up targeted back lanes, alleyways, footpaths and beaches.
A council spokesman said that "as much of the collected litter as possible will be recycled".
Local charity Beach Buddies also held two beach cleans at the Point of Ayre to coincide with the campaign.