Car vandalism 'unprecedented' for Isle of Man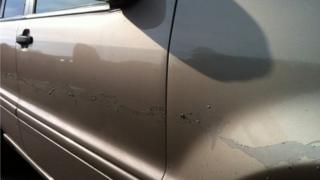 An act of vandalism in which more than 60 cars were damaged has been described as "unprecedented" for the Isle of Man.
It is thought vandals sprayed corrosive liquid on to 64 parked cars from a moving vehicle on Sunday evening.
Sgt Gary Heaton said: "Senseless damage on this scale is unprecedented on the Isle of Man".
A £1,000 reward is being offered for information leading to the arrest or conviction of an offender.
Local farmer Juan Hargreaves discovered the damage on Sunday.
He said: "I thought a car had been scratched, but when I took a closer look, I noticed it had been sprayed with a white liquid.
'Very badly damaged'
"When I drove along the road, I realised that more and more cars had been attacked.
"I called the police immediately and attempted to wash the liquid off as many as I could. Some were very badly damaged."
Officers estimate the damage, which happened in areas of Port Erin, Bradda, Ballafesson and Castletown, will incur insurance costs running into tens of thousands of pounds.
Vanessa Hicken discovered her car had been attacked after returning from holiday on Monday.
She said: "I got back from the airport and to my horror my car had been badly damaged. I only bought it last week and it was my pride and joy.
"The liquid has damaged every panel on the driver's side and the wheels as well, it makes me so angry."
'Write-off'
Andrew Sigley's car was also damaged. He said: "It is so upsetting. My car is 20 years old, but I love it.
"It is probably not worth the value of a respray, so it might be a write-off. Whoever has done this has caused a great number of people a great deal of anguish.
"We really can't understand it."
Sgt Heaton said: "Due to the scale of the crime we have drafted in officers and CID to help us with our inquiries.
"This is the equivalent of six months of criminal damage in one night for the south of the island.
"Our forensic teams should hopefully have established what the two liquids are today, [Tuesday] so we can start working out where they came from.
"Due to the unusual nature of this incident, I feel that the persons responsible will have talked about what they have done and would urge anyone who may have sold the substances unknowingly to contact the police."