Isle of Man second driver sought after 70 cars vandalised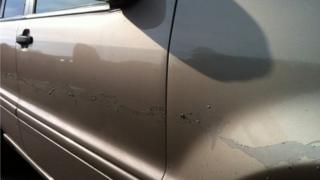 Police are searching for the owner of a second hatchback in relation to an act of vandalism which saw 70 cars damaged in the Isle of Man on Sunday.
The light coloured car was seen driving along Ballafesson Road towards the Honna Road at 22:00 BST on Sunday.
The owner of a dark coloured hatch back, with two sets of 'L' plates on, has now been ruled out of the inquiry.
It is thought vandals sprayed corrosive liquid on to 70 parked cars from a moving vehicle on Sunday evening.
'Light coloured hatchback'
Insp Mark Newey said: "The owner of the first vehicle saw the appeal and made contact straight away and I can confirm that the person had nothing to do with the on-going investigation.
"We now need to identify the driver of a light coloured hatchback which was seen travelling along either the Ballachurry Road or Ballafesson Road towards the Honna Road on Sunday evening.
"As the vehicle approached the Surby junction on its right hand side, the vehicle then turned around in the junction and left in the same direction from which it had arrived.
"I would like the driver or any occupant of the vehicle or anyone else who may know who this was, to contact the police so that they can be eliminated from the inquiry."
A £1,000 reward is being offered for information leading to the arrest of those responsible.
Police will be writing to every victim and hand delivering information as to how to obtain a crime reference number and other information to help.
Officers estimate the damage, which happened in areas of Port Erin, Post St Mary, Bradda, Ballafesson and Castletown, will incur insurance costs running into tens of thousands of pounds.