Isle of Man criminal justice system 'to reach 21st Century'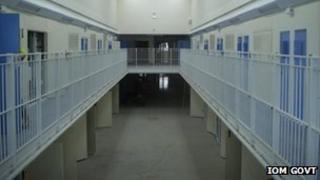 The Manx criminal justice system is to be reformed to bring it "into the 21st century", the government has pledged.
Proposed changes include reducing the prison population by introducing alternatives to custodial sentences.
There are currently about 100 inmates at the island's prison, each costing about £60,000 a year.
Home Affairs Minister Juan Watterson said "languishing in prison cells" was not a good way for inmates to "pay their debt to society".
"We are looking to bring the Isle of Man's criminal justice system into the 21st century," he said.
"We have identified a number of key areas where we don't think it's performing well and now we need to gage public reaction to see what the public appetite is for reform of the system."
'Restorative justice'
One of the key areas under scrutiny is dealing with offenders after they have served their jail term.
"We already have community service but we could do more things around restorative justice, actually putting back what you have done wrong rather than low level beach cleans for example, which is what we have now," continued Mr Watterson.
Restorative justice, an alternative to the traditional processes of arrest and punishment, is based on three basic principles.
The offender acknowledges they have done wrong, works to put it right, and is then reintegrated into society.
The total cost of the Isle of Man's criminal justice system is almost £15m a year and more than £7m of that expenditure goes on the prison service.
'Different path'
But the proposed changes are not just about saving money, Mr Watterson said.
"[Up to] 80% of the prison's costs are fixed costs anyway, so the savings to be had in this area aren't significant," he said.
"But, it's about building a better society where we can turn people around so they can see the error of their ways and choosing to take a different path in life rather than just locking them up, letting them mix with criminals and then coming back out to try out the new techniques they have learned inside to use."
Details of a public consultation on the Isle of Man's Criminal Justice reform have now been released.