Criminal system changes welcomed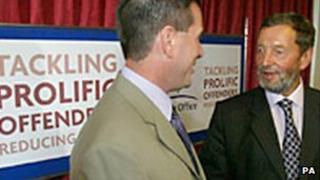 A former offender who "broke the cycle of crime" and went on to start his own successful business is welcoming a reform of the Manx justice system.
Ian Rayner said offenders should be made to contribute to the island's economy instead of "draining it".
There are currently about 100 inmates at the island's prison, each costing about £60,000 a year.
Mr Rayner said: "I am sure there is plenty of work available on our small island to hand over to the prison."
He added: "In some UK jails, prisoners get involved in manufacturing which seems to work well and it also helps to keep people active while they are inside.
"I'm sure there are some prisoners who wouldn't be regarded as a high security risk and they could actually work in the community under supervision, I really don't know why they don't do it."
The government proposals include finding methods to deal with offenders outside the system by finding alternatives to arrest and imprisonment.
Core issues
In 1985 Mr Rayner, who now runs his own window cleaning business, was sentenced to three years in prison for drug offences and subsequently spent time at Victoria Road prison in Douglas.
"I wouldn't say I was rehabilitated when I was in prison but I hear that Jurby has more resources than Victoria Road, in terms of providing education and practical skills, but more is needed when it comes to rehabilitation," he said.
"You can give people all the courses in the world, but at the end of the day unless you are addressing the core issues which got them locked away in the first place, you won't get to the bottom of it."
After serving his sentence on the Isle of Man, Mr Rayner said he had left the island for the north of England.
"I wanted to get help so I went to a counsellor at a clinic in Leeds but it soon became apparent that he wasn't long out of college and had no experience of drugs himself.
"I immediately turned off, gave him the answers he wanted to hear and got out of there.
Rock bottom
"People who are addicted to drugs need to speak to someone who has come through it themselves, someone who can really understand what they are up against.
"Coming off heroin is not easy, you have to know what it is like to hit rock bottom before you can help other people."
Mr Rayner said the simple act of leaving the Isle of Man was a big part of his recovery.
"I had to get off the island before I could start to get better. I say it jokingly sometimes but I really think everyone should get the chance to leave the Isle of Man for at least two years.
"I felt like I had more options when I lived in the UK because when you live in a small community like this, everybody knows you and knows your past, that makes it difficult to move on.
"If you have been involved in crime it really limits your potential and that in itself suppresses people and keeps them in the crime cycle.
"When everyone knows your past and your past hasn't been good, you can really struggle to get back into society.
"When I moved the UK, I suddenly found I had more choices because I wasn't hindered by people making narrow-minded judgements about me.
"Because of the support that I was given, I discovered that I actually did have potential and more importantly, that I could use it to do well in life.
"That is what broke the crime cycle for me."
The public consultation on the Isle of Man's Criminal Justice reform is available online.