More than 2,000 sign Isle of Man overseas aid petition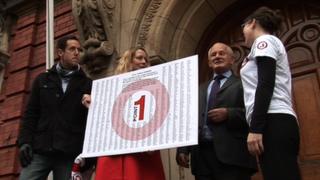 A petition signed by 2,000 people who want to see the Isle of Man increase its commitment to overseas aid has been handed over to the chief minister.
The Point 1 campaign group wants to see the island increase its overseas aid commitment from 0.07% of its gross national income (GNI) to 0.1% by 2013.
Kristina Crawford, of the group, said: "The Isle of Man needs to show it is playing its part internationally."
In 2004, Tynwald committed to spending 0.07% of GNI on overseas aid by 2015.
The Isle of Man's Chief Minister Allan Bell said he "agreed with the principle" but there was "absolutely no possibility of the target being reached in time for the 2013 budget."
'Absolutely no possibility'
Mr Bell said: "We recognise the commitment we have made but we also recognise that we are in very, very difficult times financially and therefore there is absolutely no possibility of that figure being reached in time for the 2013 budget."
The Isle of Man currently gives approximately 0.07% GNI, less than £28 per person.
The chairman of the Isle of Man's Overseas Aid Committee, Phil Gawne MHK, said: "There is no doubt that the island is not meeting the 0.7% target set by the UN, but we are helping with a number of important projects around the world."
The Isle of Man currently pays less than both Jersey and Guernsey.
In 2011, Guernsey gave 0.14% of their GNI and Jersey gave almost 0.2%.