Silver vehicle driver sought over car vandalism attack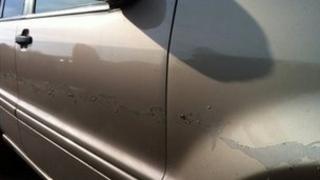 Police investigating an act of vandalism which saw 70 cars damaged in the Isle of Man say they are following up "a number of positive leads".
It is thought vandals sprayed two different corrosive liquids on the cars from a moving vehicle on 7 October.
Officers said they want to talk to the driver of a silver vehicle seen in Surby on the same day.
A £1,000 reward has been offered for information leading to the arrest of those responsible.
Sgt Neil Craig said: "The driver of the silver vehicle that turned in to the Surby junction has so far not come forward and I would ask that if you know anything about this vehicle you contact the police so it can be eliminated from our inquiries."
According to police, the incident is the equivalent to six months of criminal damage in the south of the island.
Officers estimate the damage, which happened in areas of Port Erin, Post St Mary, Bradda, Ballafesson and Castletown, will incur insurance costs running into tens of thousands of pounds.