World's largest sailing ship to visit island in 2013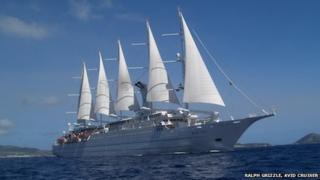 The world's largest sailing ship is to visit the Isle of Man in 2013, the government has confirmed.
The 535 ft (162m) 'Wind Surf' - a Windstar fleet vessel, has five masts and can accommodate 312 guests.
Geoff Corkish MHK, said: "The visit will provide a welcome boost for the Manx economy."
Fourteen cruise ships have brought more than 6,000 people to the island in 2012, according to the Department of Economic Development (DED).
Treasury figures calculated the visitors generated £300,000 for the Isle of Man's economy, based on an average £50 spend per person.
According to the DED, 16 cruise ships are already confirmed to visit the island in 2013, bringing an estimated 9,000 passengers.
The Wind Surf will be carrying tourists visiting golf courses around the British Isles.