Whooping cough vaccine reminder for pregnant women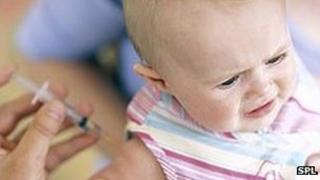 Pregnant women in the Isle of Man have been reminded to receive a vaccination against whooping cough following an outbreak of the infection.
Seventeen cases have been reported on the island this year, but none have been in infants, according to the Isle of Man's Director of Public Health,
Dr Parameswaran Kishore said: "It is vital that babies are protected from the day they are born."
Three babies died from whooping cough in England and Wales in October.
Very young babies are at the greatest risk of developing serious complications from the infection including pneumonia and brain damage.
Dr Kishore warned that the island "cannot be complacent".
"We are offering the vaccination to women who are between 28 and 38 weeks of their pregnancy, to give their unborn baby the best protection," he said.
Health officials say there are surges in whooping cough cases every three to four years.
Before this year, no cases had been reported in the Isle of Man since 2009.
The main symptoms are severe coughing fits accompanied by a "whoop" sound as young children gasp for breath.
In older children and adults, the main symptom is a prolonged cough.