Isle of Man bus drivers vote 'overwhelmingly' to strike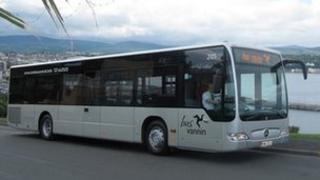 Bus drivers in the Isle of Man have voted overwhelmingly to take strike action over pay cuts, the Unite union has confirmed.
The 98 drivers have been involved in a long-running dispute over the government's attempts to cut drivers' wages by up to £3,000 a year.
Unite's Bobby Morton said: "This is a serious step for our members to take - strike action is a last resort."
The three-day strike will begin on Thursday, 20 December.
According to Unite, 90% of the drivers voted to take action over measures which include increased driving time and the reduction of contractual hours.
'Massive disruption'
Mr Morton said: "Unite members are prepared to match any cuts in terms and conditions that civil servants at the government's DCCL (Department of Community Culture and Leisure) would make to cut the deficit - yet they have not been asked to contribute.
"This is totally unfair.
"DCCL needs to stop burying its head in the sand and get back around the table to avoid causing massive disruption to shoppers and local businesses on the island in the run up to Christmas.
"Unless DCCL see sense and take part in meaningful negotiations, this action will go ahead next week."
In October, all 98 bus drivers had their government contracts terminated and were asked to reapply for their jobs under new terms.
According to the government, less than half the drivers accepted their last contract offer.
The department is hoping the proposed changes will save £300,000 a year.
The average salary for a bus driver in the Isle of Man is £38,500. The basic salary is £24,300 but can be boosted by overtime.
Drivers have been offered new pay terms and conditions three times by the department but they were all rejected at ballots.
A DCCL spokesman said it needed to save £1m in the current financial year.