Isle of Man's Santa Dash due to start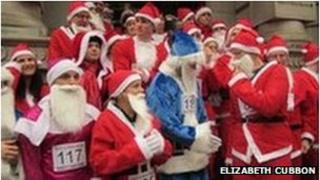 More than 100 people dressed as Father Christmas will compete in the Isle of Man's annual Santa Dash around the island's capital later.
The competitors will run a lap of Douglas town centre, starting on Prospect Hill at 12:30 GMT.
Last year Manx athlete Kevin Loundes won the race in 4 minutes 20 seconds, breaking John Halligan's 2007 record.
For the first time there will be some road closures around the capital while the charity event takes place.
Race organiser John Lindon said: "The race is over in a matter of a few minutes so there should not be much disruption to traffic.
Last year tens of thousands of pounds were raised for a variety of charities.