UK Tough Guy: Isle of Man firefighter takes on challenge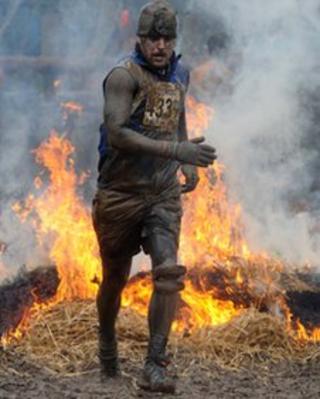 An Isle of Man firefighter will take on one of the world's most dangerous obstacle courses to raise money for the island's hyperbaric therapy chamber.
Matt Tyrer has trained for six months ahead of the UK Tough Guy event, dubbed the "world's hardest endurance test."
The 28-year-old will have to negotiate fire pits, freezing underwater tunnels, electric shocks and barbed wire during the 15km event in South Staffordshire.
He said: "It is the ultimate challenge and I am really looking forward to it."
The course costs about £1m to build and and takes place on the last Sunday of January.
The Douglas fireman's training regime has included punishing gym sessions, long-distance runs and plunging himself into rivers to prepare for the cold conditions.
He said: "I've been trying to condition myself mentally and physically for this event.
'Very strange looks'
"Without the proper preparation you simply wouldn't make it to the finish in once piece.
"I have been taking cold showers for months and I've been training outside in just my shorts. I have a had some very strange looks."
Mr Tyrer is hoping to raise thousands of pounds.
Hyperbaric therapy helps alleviate the symptoms of many conditions by delivering oxygen under pressure in high concentration to injured areas of the body, stimulating growth of new blood vessels and speeding recovery.
Mr Tyrer used the facility after he suffered a serious knee injury in a motorbike accident.
The chamber's operations manager Dave Downie said: "It is absolutely fabulous that he is taking on such an amazing challenge to help us.
"It costs around £150,000 a year to stay operational.
"We get £100,000 from the government and need to raise the rest, which is around £1,000 a week. So help like this it is gratefully received."
The facility which delivers around 15,000 treatments a year has been used by many of the leading TT riders, including Conor Cummins.
Mr Tyrer will take on the challenge, now in its 25th year, with 5,000 other competitors from all over the world on the 27 January.