Isle of Man bus drivers to hold second strike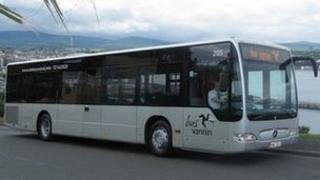 Isle of Man bus drivers have voted for further strike action in a long-running dispute over measures which include a £3,000 pay cut.
Drivers will walk out on 17 January after talks between the Unite union and the government broke down on Thursday.
Unite's Bobby Morton said industrial action is planned for January, February and March.
In December a three-day strike led to hundreds of children on the island taking the steam train to school.
The second strike will be held between 13:00 GMT and 18:00 GMT on Thursday which is an exam day for many of the island's GCSE and A-Level students.
'Maximum disruption'
Transport Minister Graham Cregeen said the union is looking to cause "maximum disruption".
He said: "I am disappointed by the fact that the union feels another strike is justified, particularly on an exam day for many."
Mr Cregeen added his department had learned from the first strike and was working to put contingency plans in place.
Mr Morton added that further strikes planned for February and March may be held over longer periods.
The department is hoping the proposed changes will save £300,000 a year.
A bus driver's basic salary is £24,300 but, boosted by overtime, an average driver is earning about £38,500.
A government spokesman said it needed to save £1m in the current financial year.