Jubilee Buildings lighting project receives council support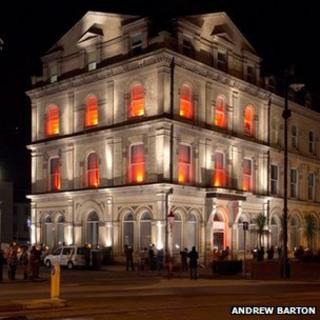 A planning application to externally light one of Douglas's most prominent buildings has attracted the support of members of Douglas Borough Council.
The application to illuminate Jubilee Buildings has been supported by the chairman of the environmental services advisory committee Ritchie McNicholl.
Councillor McNicholl said it would "transform the area at night".
In 2009 the Jubilee Buildings was illuminated as part of a gorilla lighting project.
Mr McNicholl said: "Creative use of lighting can make for safer, more agreeable town centre spaces and so improve the overall environment.
"Importantly we see the scheme complementing the significant investment being made to regenerate Douglas town centre.
"We are therefore pleased to express support for the scheme which, if approved, may set a welcome precedent for owners of other prominent town centre buildings to follow."
Councillors Christopher Thomas and Alan Quirk voted against the idea.