Isle of Man roads close due to snow and flooding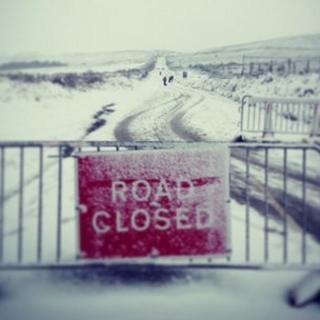 Five roads on the Isle of Man are closed due to snow, flooding and landslide issues.
With heavy rain and flooding forecast overnight, the Department of Infrastructure (DOI) has shut the roads until Monday.
The A18 Mountain Road, Benn-i-pott Road, Injebreck/West Baldwin Road, Tholt-y-will Road and Druidale Road are all closed.
The DOI asked drivers to take extra care as road conditions are hazardous.
It said it would review opening the roads at 12:00 GMT on Monday.
The Isle of Man's A18 Mountain Road has been closed for much of the week due to the weather.
A comprehensive list of road closures is available on the Isle of Man Constabulary's Facebook page.