Texting drivers targeted by Isle of Man police camera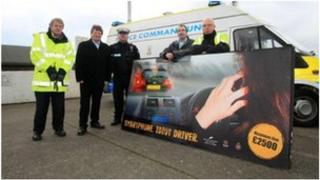 A camera surveillance van will be used on the Isle of Man as part of a campaign to clamp down on drivers using their mobile phones.
The vehicle has a camera device fitted to the roof and is designed to give police a clear view into cars, to determine if a driver is texting.
The week-long road safety initiative will end on 3 February.
Infrastructure Minister David Cretney said: "Penalties can include a fine of up to £2,500 and four penalty points."
He added: "There is no excuse for using a hand-held mobile when driving, as there are many Bluetooth devices on the market."
A government spokesman said about 70% of all accidents were caused by driver error and 25% of those were because the driver was distracted.
Gordon Edwards, of the Department of Infrastructure, said the mobile camera surveillance van was a controlled unit and would be situated in areas where drivers were most likely to use their phones.
He said: "Mobile use whilst driving is thought to be most common in places like supermarkets, schools and industrial estates - that will be where we concentrate our efforts."
"If anyone is spotted using their phone it is unlikely that they will be stopped there and then but it will be followed up, depending on the circumstances- possibly by a police visit."
Billboards advertising the road safety initiative will be displayed around the island throughout the campaign.