Isle of Man Mountain Road reopens after snow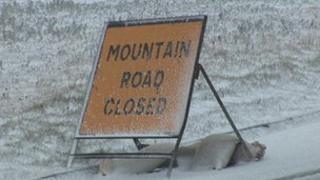 The Isle of Man's Mountain Road has reopened after being closed by drifting snow, but other roads remain closed.
The area, between the Bungalow and Ramsey Hairpin, reopened at 14:30 GMT but Benn-i-pott Road, from Brandywell Cottage to Brandywell, is closed.
Sleau Whallian Road and Bayrauye Road, from St Marks to Ballamodha, also remains closed because of "excessive surface water".
Police have advised motorists to "drive with care".
The Department of Infrastructure said the Sulby Glen Road from Tholt-y-Will to the Mountain Road, Injebreck Road, Barragarrow crossroads to Brandywell Cottage and Druidale Road all reopened at 12:00.
Over the weekend numerous roads across the island were closed due to flooding caused by heavy rain and melting snow.
A list of road closures is available on the Isle of Man Constabulary Facebook page.