Gareth Cowin: Korean Games renamed after Manx Olympian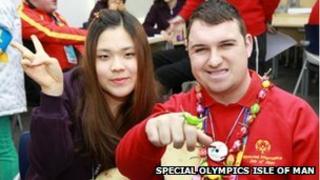 The Special Olympics World Winter Games in South Korea have been renamed in honour of Manx Olympian Gareth Cowin.
The 25-year-old was aiming to help the Isle of Man defend their floor hockey title but was taken ill and died in PyeongChang on Wednesday.
A Games spokesman said: "The entire Special Olympics family was grieving the loss of Gareth and we dedicate these games in his honour."
The Games will be known as Gareth's Games Pyeongchang 2013.
Organisers said the name will feature on the event's website during the week-long competition.
Mr Cowin helped the Isle of Man win gold in the floor hockey in 2011.
He had competed at a number of World Games winning gold medals in both hockey and five-a-side football.
'Fitting tribute'
The Manx team will continue to compete with the full blessing of Gareth's father Kevin who is in South Korea.
Special Olympics Isle of Man Chairman George Campbell said he could not think of a more fitting tribute.
Mr Campbell said: "Whilst the team are all very upset they are rallying together and going out and playing their games for Gareth - exactly how he would have wanted it."
The organising committee also announced that athletes from each of the 111 competing countries will wear ribbons during the closing ceremony on 5 February.
Mr Cowin's former headteacher Adrienne Burnett said: "'We have followed Gareth's sporting career with great interest and we are very proud of his achievements."
"Our thoughts are with his family, friends and team-mates."
It has also been confirmed that one minute of applause will take place ahead of all football and hockey fixtures in the Isle of Man this weekend.
Special Olympics is a worldwide organisation offering sports for people with learning disabilities.
More than 2,300 competitors from all over the world are taking part in the multi-sport event.