Nominations invited for best in Manx farming award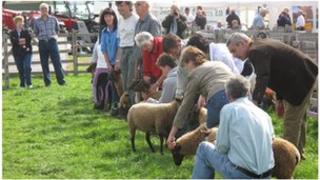 Nominations have been invited for the 2013 Tomorrows' Farmer Award, which recognises "efficient and innovative" practice on the Isle of Man.
A government spokesman said the competition will seek out those working to conserve the environment.
All nominations should be submitted to the agriculture department by 29 March.
Agriculture minister Phil Gawne said: "It is a chance to celebrate all that is good about Manx farming and give individuals the chance to shine."
He added: "It gives us the opportunity to share best practice, to inspire others and to let people know more about the hard work that goes into producing the quality produce that we can all enjoy every day."
The judging panel includes Mr Gawne and vice president of the Manx National Farmers Union, Brian Brumby.
The winners will be announced at the Agricultural Show on 9 August.