Isle of Man home owners asked to accommodate TT tourists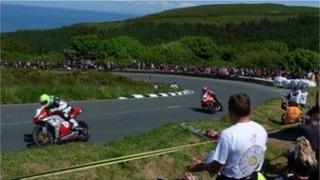 Isle of Man homeowners are being asked to sign up for the government's 'TT homestay scheme' to accommodate tourists during June's races.
Last year around 800 homeowners on the island let rooms, with 3,224 beds being taken up over the fortnight.
A Tourism spokeswoman said the "earlier people can register the better as demand is extremely high."
According to the Tourism Department all of the island's registered accommodation is already full.
Tourism's Nikki Salmon said: "We understand that all 5,260 bed spaces in hotels and bed and breakfasts are full and demand is high.
"We would like to hear from anyone who may have a spare room available and can offer guests accommodation on a bed and breakfast basis, or would consider rental of your entire property."
The registration fee is £15 and householders are exempt from tax on up to £1,500 of earnings from paying visitors.
Accommodation can be offered during the TT for any number of nights between 25 May and 9 June 2013 and for the Manx Grand Prix between 17 August and 1 September.