Summerland revamp plans submitted to government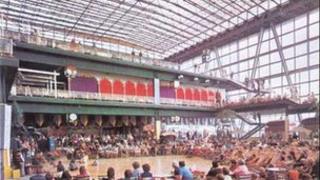 A number of plans are being considered for the former Summerland site in Douglas, the Isle of Man's director of properties has confirmed.
In 1973, 50 people were killed in a fire at the site just two years after the high-tech promenade venue opened its doors.
Mr Christopher said it was difficult to say when any redevelopment would actually be seen on the site.
The location at the end of Douglas promenade has been vacant since 2006.
In 2010 plans for a £30m facility with a multiplex cinema, restaurant and bars, were dropped.
Mr Christopher said matters associated with the disposal of the site were moving forward.
A government committee will now look at the suggestions to see which offer the most social and economic benefits to the island.