Isle of Man government counters spoof Facebook page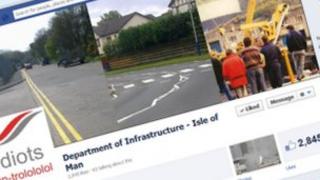 Government officials on the Isle of Man have launched a Facebook page to combat a spoof account.
The fake page, which pokes fun at road mending and maintenance, has amassed about 3,000 followers.
The official page will provide up-to-date news about the Department of Infrastructure's work.
Infrastructure minister David Cretney said he hoped the page would help to explain the work his department does and why decisions were made.
Mr Cretney said he had been aware of the satirical page since it was created.
He said: "It's proved to be very popular and satire is something that comes with the job.
"We're not immune to criticism and the hope is that our official page will help explain the work we do."
According to the department, the official page will feature information on road closures, snow and flooding updates and other projects.