Manx road repairs will only 'scratch the surface'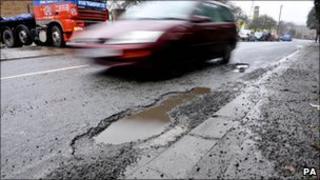 Road repairs after severe weather on the Isle of Man will only "scratch the surface" of what needs to be done, according to the director of highways.
Richard Pearson said that due to a lack of funding, priority must be given to safety rather than appearance.
Unusually high rain fall in January prompted several hundred reports of pot holes from members of the public.
Mr Pearson added: "The reality is, the amount of money available is only going to scratch the surface of repairs."
Last year the government created a dedicated website for members of the public to report road damage.
Since then the department of infrastructure has received, on average, about 500 reports a month.
Mr Pearson said this number increased by "several hundred" during the bad weather.
'Dangerous defects'
"We try to deal with dangerous defects within 24 hours and we hit that target 90% of the time.
"However there is a serious need for more investment- we are about £6m short of the funding needed to maintain the roads in a steady condition
"The backlog of work which has built up would cost about £100m to complete but we are competing with finite resources from the Treasury so we have to ask ourselves what the public would consider to be the priority- is it the state of the roads or funding for education and health?"
Repair work is ongoing on the A18 Mountain Road, specifically at the Creg-ny-baa, the Gooseneck and Ramsey Hairpin.
Plans will go to Tynwald to address concerns in Douglas at Peel Road, Prospect Hill and the Promenade.
"It's almost a national embarrassment that some of our high profile routes are in such a bad state," continued Mr Pearson.
"If a road looks shabby or badly patched it can really lower the tone of the whole area."
In the 2012 budget the department of infrastructure had its funding cut by 4.9% from £34.73m in 2011 to £33.04m.