Voluntary Isle of Man beach cleans resume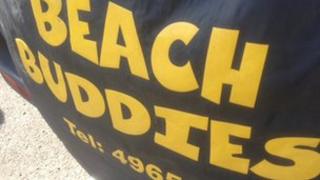 A beach cleaning campaign run by volunteers on the Isle of Man is getting back on track after severe weather prompted an eight week break.
The next area to be tackled, described by Beach Buddies organiser Bill Dale as "a huge problem", is Cranstal beach in the north of the island.
The group plans to meet three or four times a month throughout the year.
Mr Dale said: "Ballaugh, Kirk Michael, Gansey and Castletown are all in definite need of attention."
Beach Buddies Isle of Man was formed in 2006 and has worked alongside private companies and environmental groups to help clean up the Manx coastline.
Mr Dale said: "It's like painting the Forth Bridge - as soon as you have done one, you have to get started on another because we have a real problem on the Isle of Man.
"What we want to promote is a sense of pride within the community about the island's coastline.
"We have some of the most spectacular scenery in the British Isles here on the island and if we all pull together we can make it even better."
The Cranstal beach clean up will take place on 16 February at 10:30 GMT.
More information is available on the group's Facebook page.