Bee Gee Barry Gibb unveils statue in Redcliffe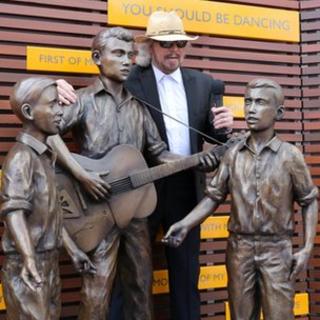 Barry Gibb has unveiled a statue of the Bee Gees in the Australian town where he spent part of his childhood.
Thousands watched the Isle of Man-born singer unveil the statue in Redcliffe, Queensland, where the Bee Gees signed their first recording deal in 1959.
Barry Gibb, the last surviving member of the band said it was an "emotional experience".
The Bee Gees sold more than 200 million albums worldwide in a career spanning five decades.
Robin Gibb died last year following a lengthy battle with cancer, whilst his twin brother Maurice died in Miami in 2003.
'Emotional day'
Their younger brother Andy, who was also a popular singer died in 1988, but was not in the band.
Barry, who was with his mother Barbara and sister Lesley Evans, said: "I think they are with me. I can just sort of tell they are there. All three of them.
"It has been an emotional day - I will have a bit of a cry later on but it's a wonderful thing."
Moreton Bay council Mayor Allan Sutherland said: "Redcliffe is where they were discovered and this is our way of saying thank you on behalf of the millions around the world who have enjoyed their music.
"It was on a kitchen table in Redcliffe that the Bee Gees signed their first recording deal after being discovered at the local speedway."
The bronze statue shows the Bee Gees as children between the ages of nine and 12.
"The statue doesn't depict them at the height of their fame but as lads walking along the beach at Redcliffe - foot loose and fancy free with Barry playing his guitar," continued Mr Sutherland.
"There were many, many people here today who would have remembered them playing and sat on the beach."
The brothers, who emigrated from Manchester to Australia in the late 1950s, scored nine US number one singles and five chart-toppers in the UK.
The statue was part of the region's tribute to the Bee Gees.
It will mark the start of the Bee Gees Way - a 70m walk that tells the group's story in words and pictures, curated by Barry Gibb.
The last Bee Gee is currently touring Australia.