Isle of Man TT: First swimmers complete charity challenge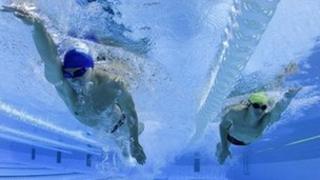 A Peel man has become the first swimmer to complete a challenge to swim the equivalent length of the Isle of Man TT course for charity.
Kristian Cowin was the first person to complete the 37.75-mile challenge, which equates to 2,416 lengths of the Western swimming pool.
Christine Birdsall was the first woman to finish the swim, which is being attempted by around 150 people.
The challenge was dreamt up by lifeguard Krysy Howard.
Last year it raised £3,000 for the island's St John Ambulance.
Ms Howard said: "We have had a terrific uptake and we are hoping we can beat last year's target."
The Isle of Man's senior swimming team also took part to help raise money for their trip to the Island Games in Bermuda.