Isle of Man retail tax plan outlined in budget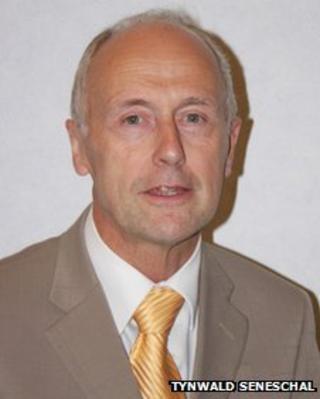 Major retailers generating more than £0.5m a year will be taxed for the first time, as part of new measures outlined in Isle of Man's budget.
The 10% rate of income tax begins in April and will affect outfits such as supermarkets and petrol retailers.
Currently UK retailers with branches on the Isle of Man pay tax to the UK on any profits made on the island.
Treasury Minister Eddie Teare said in the long run there will be no extra cost to the organisations affected.
He said: "The amount of cash they pay to the Isle of Man government will be off-set against the amount they pay to the UK government - so their total tax bill is not expected to change, there will be a slight administrative burden but nothing else."
The government said for organisations which do not exceed the limit of £0.5m, the standard rate of 0% will continue to apply.
"I don't see how anyone can argue with this, I think it is fair and easy to justify. It is only right that those operations, which are supported in terms of infrastructure by the Isle of Man taxpayer, should contribute to the island's tax base," added Mr Teare.
'No rabbits'
Other plans announced within the island's budget include a further reduction in government staffing costs.
Over the next three years, Treasury said 300 more government posts will be cut - bringing the total to 700 since 2010.
"There is insecurity about this," said Mr Teare, "So it is important that we deal with this as quickly as possible.
"I know what it is like to work in an environment where redundancies are inevitable so I do understand the pressure that our staff are under. Having said that, people are still performing and performing very well. They are a credit to the organisation."
Each government department, with the exception of Health and the Treasury, has seen a cut in the budget - the largest are found in Community Culture and Leisure (£15.69m from £17.22m in 2012) and Social Care (132.74m from £142.95m in 2012).
There have been no changes made to income tax rates, personal allowances or thresholds for Isle of Man residents.
Mr Teare added: "No rabbits have come out of the hat in this budget. The announcements are not going to have a great deal of impact on the average Isle of Man resident because we are not taking any money out of the average person's pocket.
"We said 12 months ago that we would rebalance the island's finances over a four-year period. We are delivering on that."