Isle of Man Archibald Knox collection to go on sale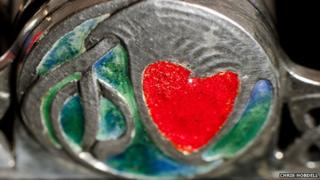 A private collection of work by Manx-born 19th Century designer Archibald Knox, is expected to raise about £30,000 when it goes on sale.
Owner Chris Hobdell said the items, crafted from enamel, silver and pewter, range in price from £200 to £10,000.
During his career Archibald Knox worked for Liberty & Co which established him as the foremost designer in the English Art Nouveau movement.
The Knox sale will take place on Friday and Saturday in Douglas.
Mr Hobdell said: "I would like people, not just to be able to look at these pieces, but also to pick them up, feel them and touch them.
"It's difficult to describe why I love his work, it's like asking why people love good music, it's just that it hits you in the heart.
"Some of these things are over 100 years-old and they are absolutely perfect, the honesty of his work is magnificent."
The sale, which includes items such as pottery, jewellery, vases, biscuit tins and clocks, will take place at Braddan Church Hall.
Chairman of the Archibald Knox Society, Liam O'Neil said: "I think this collection is extremely important because it is here in the Isle of Man and it's bringing Knox's work to the people."
The Knox sale marks the 80th anniversary of the artist's death.