Isle of Man introduces tuition fees for Manx students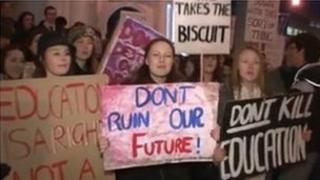 The Isle of Man government has voted in favour of introducing university tuition fees for Manx students.
The decision means that from 2014 students will be asked to pay a universal contribution of at least £2,500 towards their education.
Those whose parents earn in excess of £100,000 a year will pay more.
Education minister Tim Crookall said the current student award arrangements cannot be sustained in the light of recent budget cuts on the island.
He added: "Around 85% of students will be able to attend university without any other commitment than a £2,500 universal contribution and all those students will be able to borrow this funding from government."
The government plans to introduce a loan scheme which will be extended to all students, repayments for which will not begin until a year after studies are completed and only if they are earning at least £21,000 a year.
'Taken on government'
Since the proposals were put forward last year more than 1,000 people have put their name to a petition opposing the plans.
Protests involving hundreds of sixth-form students have also been held outside Tynwald.
Campaign leader Sam Turton said: "We have taken on the government, and while we haven't won the war we have won many battles along the way.
"For a group of students who, according to the chief minister, don't understand Manx politics, we have made people sit up and listen."
The island's Department of Education currently spends £11m of its £95.8m annual budget on student awards, supporting about 1,400 Manx students every year.