Archibald Knox auction collects £35,000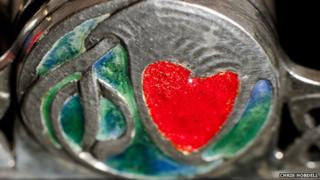 A private collection of work by 19th Century designer Archibald Knox has raised more than £35,000 at an auction on the Isle of Man.
Owner Chris Hobdell said the items, crafted from enamel, silver and pewter, ranged in price from £200 to £10,000.
During his career Archibald Knox worked for Liberty & Co which established him as a designer in the English Art Nouveau movement.
Mr Hobdell said almost the entire collection was sold within two hours.
"I was expecting about a couple of hundred people through the door during the whole weekend but there were over 300 in the first couple of hours- after two hours, I had sold everything except one spoon and one brooch.
"It was incredible really and just goes to show how well-loved the Knox designs are here on the Isle of Man."