Oscars 2013: Singer Sam Barks performs with Les Mis cast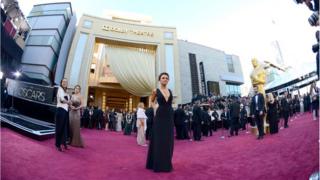 Musical star Sam Barks said it was "very surreal" to perform at the Oscars alongside the likes of Adele and Shirley Bassey.
The Isle of Man actress, who plays Eponine in the film adaptation of Les Miserables, performed with fellow cast members at the ceremony.
She said: "To share the stage with the likes of Adele and Shirley Bassey was a moment I will never forget."
The 22-year-old shot to fame on the BBC talent show I'd Do Anything in 2008.
'Very surreal'
She added: "They are people I never expected to even meet let alone sing with and it was great to share the stage with them and the Les Mis cast."
"It is very surreal. I think I have met all my living idols in two days."
Les Miserables won three awards including best supporting actress for Anne Hathaway.
Barks' former drama teacher in the Isle of Man, Stephen Craige, said: "I am in awe of what she has achieved.
"She was always a remarkably talented and intelligent student and she simply loves performing."
"It is incredible to see her not just performing alongside Hollywood stars but holding her own," he added.
Last week it was confirmed the singer would return to her Isle of Man home next month to start filming for A Christmas Candle.
An Isle of Man Film spokesman confirmed filming would begin in late March.
The arrangement is part of the Isle of Man's collaboration with Pinewood Studios, a deal struck with the aim of boosting the Manx film industry.