Isle of Man film makers launch appeal for rat extras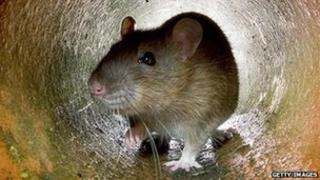 Budget film makers on the Isle of Man have launched an appeal for rat owners to bring down their pets to act as extras in a new film called Long tails.
The film is being made in Douglas and tells the story of a group of thieves hiding out after a bank robbery.
The producers said the animals would be well cared for during the shoot.
Richard Sanderson added: "We'd like to use a brown or black long tails - they would need to be tame enough to sit on the shoulder of one of our actors."
Abandoned house
Long tails is being supported by the Isle of Man arts council.
"It's called Long tails because they [the thieves] are basically ratting on each other and can't be trusted," added Mr Sanderson.
"We need to film an actual long tail or two in the house and we're having trouble finding anybody with a pet who could come along for an afternoon and help us."
The film is being shot in an abandoned house in Derby Square and anyone who can help is asked to contact the team via the production website.
"The whole project has grown enormously since we had the original idea - it was supposed to be a little thing we were going to do with our friends but it grew and grew," added Mr Sanderson.
"We have just finished working with two great actors, Vas Blackwood and Jeff Stewart- everyone is doing it as a bit of a punt and if the film is successful, people will get paid."