Isle of Man bus drivers to hold further strike action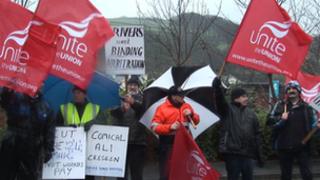 Isle of Man bus drivers have voted for further strike action in a long-running dispute with government over measures which include a £3,000 pay cut.
Bus Vannin drivers will stage two separate walkouts on Wednesday 6 March, the Unite union confirmed.
A Unite spokesman said drivers would hold stoppages from 07:30 to 09:30 GMT and from 15:00 to 17:00.
The decision was taken following a meeting between union bosses and drivers on Monday.
Bus Vannin, run by the Isle of Man department of infrastructure, has been affected by cross-governmental cuts aimed at saving the department £1m a year.
The cuts are part of the the Manx government's attempts to rebalance its finances over a four year period since the UK brought an end to a VAT sharing agreement, which left a hole of £75m a year in the island's income.
Unite's Bobby Moreton said drivers voted "unanimously in favour of escalating their industrial action".
'Vulnerable users'
Mr Moreton said: "We are unwilling to accept that the government can impose a £60 per week loss on our people just on rates of pay - that's before they take away sick and holiday pay.
"We are not going to stand for it."
Bus Vannin drivers have already staged walkouts in December, January and February.
Community, culture and leisure minister Graham Cregeen said the strike would have an impact on children taking their exams.
He said: "Hundreds will be affected at a time when they should be concentrating on their education, not their travel.
"As I have said on many occasions striking does not strengthen the drivers' position - it only reduces their pay and causes disruption for the most vulnerable bus users."
According to the department contingency measures are already being drawn up.