Manx memorial service marks Winter Hill air crash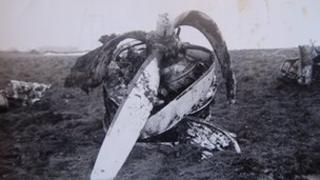 A memorial service has been held to commemorate the 35 Isle of Man residents who died in the Winter Hill air disaster.
A plane carrying a group of motor traders from Ronaldsway on a visit to a factory in Greater Manchester crashed into Winter Hill in Lancashire in fog.
Just seven people on board survived the accident on 27 February 1958.
A service took place at 10:30 GMT at the Winter Hill Memorial in Cooil-y-Ree Park, St John's.
It was organised by Douglas Rotary Club.
The chairman of the club's service committee, Howard Callow, said the event was well attended.
"We had well over 30 people at the ceremony this morning and the majority of those were relatives of people who died in the tragedy, grandchildren and children.
"My father, Thomas Callow, was one of those killed so for me it is good to take the time to remember him, it still brings a tear to the eye over 50 years on, it still has a great deal of meaning for the people of the Isle of Man."