Wind farm future discussed at British Irish assembly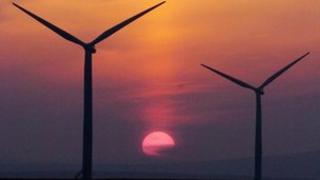 The future of wind farm developments in the Irish sea will be discussed at the 46th annual British-Irish assembly.
The theme for this year's meeting in County Donegal is Energy across Borders.
The Isle of Man government will be represented by Speaker of the House of Keys Steve Rodan.
Mr Rodan recently wrote to UK MPs expressing concerns about how a series of wind farm proposals would affect the Manx community.
Mr Rodan's letter stated: "The Isle of Man Government, along with our ferry company, Chamber of Commerce and members of the Manx public, are very worried that the cumulative effect of wind farms, together with the Morecambe Bay gas field platforms, will seriously interfere with our vital lifeline shipping lanes.
"Increased journey times, greater operating costs along with a greater likelihood of cancelled and delayed sailings, particularly in bad weather, are still probable.
The British Irish assembly will be held between 3 and 5 March.