Final stage for Isle of Man electoral boundary review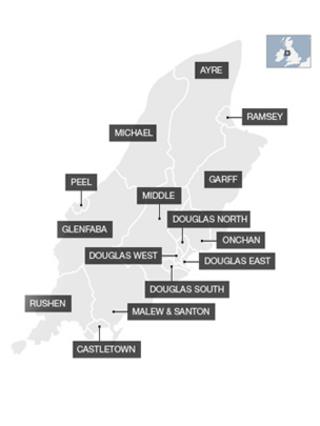 A final version of proposals to overhaul the Isle of Man's electoral boundaries is being drafted up ahead of a Tynwald presentation in June.
Amendments are being made in response to a public consultation which ran between 8 January and 20 February.
A series of recommendations were put forward for public scrutiny by the island's Boundary Review Commission.
The body recommended the current system of 24 political seats be more equally divided into 12 constituencies.
The committee received 68 written responses during the consultation.
Other feedback came from meetings with 16 members of the House of Keys and five local authority representatives.
Chairman of the Boundary Review Committee Sally Bolton said: "We have taken on board a great deal of constructive feedback and we are currently making changes where we can."
The changes would mean an end to a system where some Manx residents get three votes, and others get just one.
Under the new proposals, each of the 12 areas would be represented by two members of the House of Keys.
The current system is based on 15 constituencies where Rushen and Onchan have three political members while the four Douglas constituencies and Ramsey have two.
Ayre, Castletown, Garff, Glenfaba, Michael, Peel, Malew and Santon, and Middle all have one.
It is hoped the committee's final report, which will be handed to Tynwald in June, will be in place before the Isle of Man's next general election in 2016.