Laxey footballers injured: Four men arrested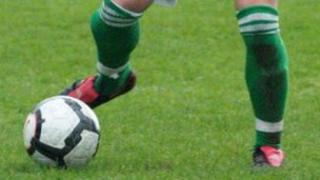 Two more men have been arrested after two players sustained serious facial injuries at an Isle of Man football match.
The footballers were injured when violence broke out during and after the Premier League match between Laxey and St John's at Glen Road on Saturday.
Police said the two men, aged 28 and 29, had been bailed and the investigation was ongoing.
Two other men, aged 21 and 55, were arrested and bailed on Tuesday.
Ten players were booked and two sent off during the match.
Sgt Andy Kneen said: "Police would like to speak to anyone who witnessed an on-the-ball incident at the start of the second half, in the St John's goalmouth, which resulted in a St John's player being substituted."
Police are also investigating an incident on the pitch after the game concluded.
Sgt Kneen said: "This later incident involved several players and spectators and as a consequence of these incidents, two men were treated at Noble's hospital, with one detained for treatment".
A spokesman for the Isle of Man Football Association said all the facts would be assessed before it decided what sanctions to impose.
He added that the "FA will not accept this sort of behaviour".
Laxey, who are second in the league, won the match over fourth placed St John's, 3-2.