Regeneration 'will support growth' minister says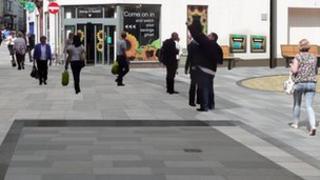 The regeneration of Isle of Man town and village centres can play a vital role in supporting economic growth, the Chief Minister has said.
Allan Bell said: "To strengthen the island's position as a high-quality international business centre, it must have infrastructure to match."
Since 2009, more than 150 projects have been supported by a government funded regeneration scheme.
Projects are currently ongoing in Douglas, Ramsey and Port Erin.
A government spokesman said the Isle of Man Town and Village Regeneration Scheme plans to invest £8m.
Mr Bell added: "I have been critical in the past of the rundown appearance of some of our retail areas as they create a poor impression of the island as a whole.
"Growing the economy is one of our national priorities and investment in the physical appearance of our towns and villages is just one of a wide range of activities aimed at supporting existing businesses and encouraging new investment."
The latest part of a multi-million pound regeneration project in Douglas town centre began last week, which is expected to take nine months to complete.
According to government, smaller projects are also taking place in place in Ramsey, Peel, Castletown, Laxey, Port Erin and Port St Mary.