Laxey footballers injured: Fifth man arrested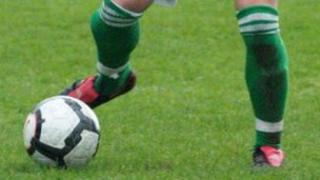 A fifth man has been arrested and bailed after two players sustained serious facial injuries at an Isle of Man football match.
The footballers were injured when violence broke out during and after the Premier League match between Laxey and St John's at Glen Road on 2 March.
Police confirmed a 35-year-old local man was arrested on suspicion of a public order offence on Wednesday.
Four men aged 55, 29, 28 and 21 have already been arrested.
Police said their investigation is "ongoing".
The Isle of Man FA said they were "shocked and disappointed" by the incident.
A spokesman confirmed the organisation would be fully co-operating with police during their investigation before launching its own disciplinary procedures in line with the approved FA guidelines.
Ten players were booked and two sent off during the match which Laxey won 3-2.