Social media 'enhances' police work in the Isle of Man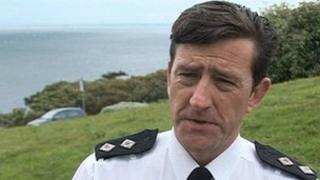 In 2010 the Isle of Man constabulary took its first tentative steps into the world of social media, a decision Inspector Derek Flint said would eventually lead to "enhanced media relations and closer ties with the community".
Today the constabulary's Facebook page has a local following of about 11,500 people - a significant percentage of the Manx population.
Profile statistics show that 70% of those followers are aged between 18 and 50, and plans are now being considered to widen that reach.
Insp Flint said: "We have set up a working group to see how we can engage more effectively with the youngest and oldest demographic on the island.
"We need to vary our content to help us appeal to different ages groups.
"It has become invaluable to us and has helped influenced policing priorities."
"We can interact directly with members of the public in the way we would if we held a community meeting in a church hall, but you are not going to get eight or nine hundred people in a church hall on a regular basis."
'Caution and fear'
A report published at the end of last year showed that Forces with a strong social media presence had better relationships with the citizens they were policing.
The research project was undertaken by a group called Composite (Comparative Police Studies In The EU) and involved several European countries.
It found that in countries where the police social media presence was less strong, "unofficial" pages were popular.
"We knew we had to get involved," said Insp Flint.
"But initially social media was treated with caution and fear - quite rightly so in my opinion - and you have to get it right or you lose credibility.
"We have to remain corporate and focussed. Our aspiration is quite simple, we want to be the best force in the British Isles at using social media."
'Human' police
With about 2,000 followers in the UK and further afield, the Manx constabulary's Facebook presence also has the potential to help with major events like the TT races in June.
During the races the island opens its doors to thousands of visitors, most of whom travel on motorbikes.
Insp Flint said: "It means we can hit people with safety messages even before they get to the Isle of Man. This is something which is perhaps a bit unexplored at the moment but we want to work with other media feeds to help get the message out there."
The European report emphasized the benefits of social media to help the police to display a more "human side", because of the more informal tone adopted in networks like Twitter and Facebook.
"Social media not only calls for a different tone, it also allows police officers to talk about positive news, emotions, police culture and experiences of daily life," the study said.
This is something Insp Flint believes has helped the police form a different kind of relationship with islanders.
"Because of the ease of communication people can appreciate that we are all human beings.
"We are not put in a cupboard and plugged in at the end of the day, we have feelings and we have a tough work-load. We get a lot of good feedback and that's good for morale."