Bonnag World Championships hopefuls vie for title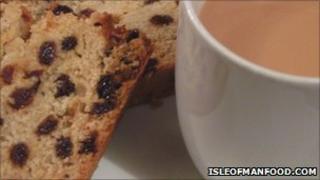 More than 30 bakers will compete in the World Bonnag Championships in the Isle of Man, on Friday.
Bonnag, a traditional sweet bread, is thought to have been a Manx staple for hundreds of years.
Entries are invited in categories for men, women and children and judging will take place from 19:30 GMT.
"This is not an easy recipe to get right- it has to be the right texture with a sour taste," judge, John Kennaugh said.
"I grew up with the real thing and I can tell you it is very difficult to keep this tradition alive because you just can't find the right ingredients anymore.
"You can't find real buttermilk anymore - in my day the butter was churned from cream which was gathered over a week, then it was placed in a crock and it would be another week before it was ready for use.
"Drinking real buttermilk is quite an experience - think about the tang of matured cheddar cheese and then times that by ten. You never had tonsillitis with real buttermilk."
The championships will be held at the St James schoolrooms in Dalby, with trophies for all classes.
All entrants are asked to bring their Bonnag on a paper plate.