Manx ferry operator welcomes Heysham to M6 road link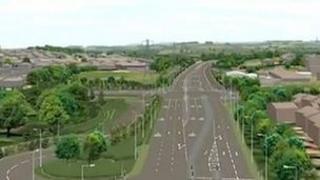 Isle of Man ferry operators have welcomed a UK government decision to build a new road linking Heysham and Morecambe to the M6.
The Steam Packet company said ferry passengers will see "a vast improvement" in travel times.
It will mean people travelling to and from the port of Heysham will no longer have to travel through Lancaster.
Steam Packet chief Mark Woodward said: "It will mean a much quicker drive for our passengers and freight customers."
The UK Department for Transport will contribute £111m to the scheme, with Lancashire County Council funding the remaining £12m.
The plans, which were given the initial go-ahead in 2010, have undergone a number of design changes to bring down the cost from an original estimate of £139m.
The work is expected to begin in the summer and be completed by December 2015.