Homes without power after 'worst damage to network since 2005'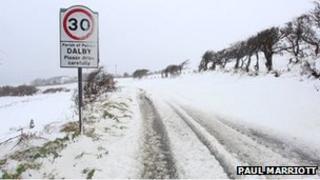 Up to 600 homes on the Isle of Man are without power due to "the most widespread damage to overhead power lines since the storms of 2005".
About 700 houses were cut off after snow fell on Friday, a Manx Electricity Authority (MEA) spokesman said.
That number had gone down to 500 on Saturday, but "significant stresses" on cabling meant it rose again overnight.
Isle of Man Police Sgt Rose Hawes said the force was attempting to provide assistance to "any vulnerable people".
The MEA spokesman said that engineers were "focussing efforts to restore the higher voltage systems which will hasten overall restoration times," but admitted "some customers may be off supply beyond the weekend".
He said ongoing work meant that Eairystane and Dalby to Waterfall Hotel was estimated to get power back within 24 hours and Barregarrow, Jurby Church, Sartfield and Fleshwick within 48 hours.
However, he said homes in Cronk y Voddy, Glen Helen, Ballaholly, Ballcrye and areas of Abbeylands may have to wait over 72 hours to have their supply restored.
He added that the company "apologise for the inconvenience" and recommended "customers who remain off supply continue to safeguard themselves".
A number of roads on the island remain closed due to the weather, though the Ramsey to Douglas coast road, main Douglas to Peel road and the new Castletown roads are all open, Sgt Hawes said.
She added that many roads were "only passable with extreme care and suitable vehicles".
"The public are asked to only make essential journeys at this time and to stick to the main roads if at all possible," she said.