Isle of Man snow: Five evacuated from homes without power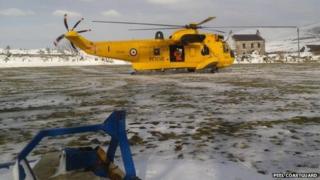 Five people were rescued from their homes in the Isle of Man over the weekend after they were left without power since Friday's heavy snow.
Three people, including an elderly lady, were rescued from Cronk Y Voddy on Sunday after they were cut off by huge snow drifts.
The elderly woman was airlifted to hospital by the RAF and a father and daughter were also rescued.
On Saturday a mother and her 17-day-old baby were also rescued from the area.
Cronk Y Voddy is one of the worst affected areas on the island, according to police, after snow and high winds led to huge snow drifts.
Insp Kevin Wilson said: "We have developed a multi-agency approach focussed on the most vulnerable".
"We are contacting them by phone and if we are not able to then we are doing our best to physically reach them. We are asking everyone to call on their neighbours."
'Terrible conditions'
"People are without power and therefore heat and if they are cut off from the roads then they may not have access to food.
"The significant snow in the area of Cronk Y Voddy and Barregarrow is making it extremely difficult to fix the power lines."
According to the Manx Electricity Authority around 250 homes are still without power and they have said the area may be without power for a further 72 hours.
Director of Network Services Adrian Dobbins, said: "Our team's are working around the clock in terrible conditions.
"I've spoken to engineers who have only been able to access the poles by sliding on their belly - so that they didn't fall through the snow. They are incredibly brave and I take my hat off to them."
Members of the Coastguard, Fire & Rescue Service & Civil Defence worked alongside RAF Valley with Sunday's evacuation.
A coastguard spokesman said: "Due to extremely adverse driving conditions team members walked approximately half a mile through deep snow before helping to coordinate the rescue and set up a helicopter landing site."
On Saturday two coastguard members again walked more than a mile through deep snow to rescue the mother and child, helped by a Department of Infrastructure excavator and mobile response unit.
Both were taken to Noble's Hospital for a check-up but were later released.