Isle of Man snow: Manx farmers face 'catastrophic loss'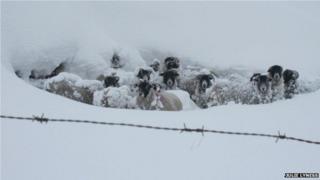 The Isle of Man's farming community is facing "catastrophic losses", as the search continues for thousands of livestock buried in snow.
St John's sheep farmer, John Kennaugh said the effects of the recent weather "will be felt for a long time to come".
It is estimated there are thousands of sheep and cattle yet to be found.
Mr Kennaugh added: "We have been coping with bad weather for over a year now and this latest development could, in some cases, prove catastrophic."
According to the Isle of Man meteorological office, the island's recent snowfall was the heaviest recorded since 1963.
Forecaster Neil Young said: "To our knowledge, these are [the] worst drifts on the Isle of Man since then.
"It was forecast four or five days in advance and we sent out a severe weather warning but there is very little preparation you can make for something like this.
'Very upsetting'
"The worst hit areas seem to have been on the west coast of the island, places like Patrick, Kirk Michael, Peel, Glen Maye and Dalby."
Walter Bridson, a farm owner in Dalby, said he has 180 sheep, but so far, only 30 have been recovered.
"It is very upsetting- it has been horrific ever since Friday - we have had 10ft snow drifts and the lanes are simply not passable, even with the farm vehicles," he said.
"I have heard of farmers that have lost about 90% of their sheep, that could add up to thousands."
Mr Bridson said, where farmers have a mixture of cattle and sheep, priorities have to be made.
"The cattle are worth about six-times more to a farmer than sheep so obviously they have to come first.
"We haven't had time to recover from last year, that was the worst on record, in terms of rainfall so no crops were grown - and now this."
'Significant losses'
The Isle of Man's Health Minister David Anderson, himself a farmer from Patrick, said while things are bad the community spirit is shining through.
"It is all hands to the pump at the moment, we have been lucky enough to get extra help, what worries me is the elderly farmers who are not going to be managing.
"The situation is extremely labour intensive, the lambing season is like that at the best of times but we have had a lot of sheep buried, some have got out alive but some have died."
The Manx National Farmers Union (MNFU) is working alongside the department of agriculture to help those in difficulty.
General Secretary Belinda Leach: "Getting people to safety is our first priority, not everyone has been accounted for yet, so we need to get in touch with them and make sure they are OK.
"Many farmers have been working tirelessly to make pathways to some of the more remote areas to check up on neighbours but if anyone is concerned they should call out hotline which is 01624 685844.
"There are going to be significant losses in terms of livestock, we know that, there is a team of people called the Fallen Stock Collection Service and they are currently doing the rounds collecting dead animals.
"The farmers understandably want them taken away as soon as possible, it is a horrid reminder to see dead animals on the fields."