Power restored to Isle of Man homes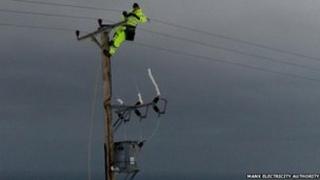 Power has been restored to Isle of Man homes after nearly 700 houses were cut off by heavy snow.
The Manx electricity authority (MEA) said engineers worked around the clock to address the island-wide damage.
A spokesman said it was "the most widespread damage to power lines since the storms of 2005".
He added: "Against all the elements, we are pleased to announce that all island customers are back on supply."
Supplies were lost in a number of areas including Eairystane, Ronague, Laurel Bank, the Curraghs and Cronk y Voddy.