Isle of Man drivers warned of melting snow drifts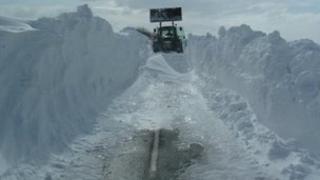 Isle of Man drivers are being warned to take extra care on the roads because of melting snow drifts.
Police said people need to keep speeds down in areas where drifts still surround the road.
A spokesman said as the snow begins to melt there is an increasing danger that lumps of ice will fall into the road.
He added: "Because fences have been damaged there is also the chance that livestock will make their way onto the road so drivers need to be cautious."
On 22 March the Isle of Man experienced the heaviest snowfall since 1963.
The worst hit areas were on the west coast including places like Patrick, Kirk Michael, Peel, Glen Maye and Dalby.
Sgt Callow said: "I cannot see any reason why people would put others, livestock or themselves at risk- we will be looking out for offenders."