Isle of Man TT races memorabilia in eBay auction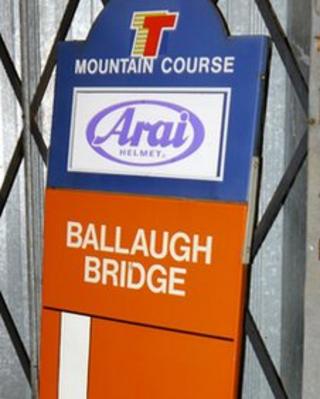 Memorabilia from the Isle of Man TT motorcycle races has gone up for auction on eBay, in a move to raise funds to run the event.
The Manx government said items going under the hammer included road signs and yellow fuel fillers, which were used until the 1980s.
The sale comes as plans progress to replace each of the metal road markers around the 38-mile mountain circuit.
One of the signs from Ballaugh Bridge has already fetched more than £1,000.
A government spokesman said: "Every one of these name boards is steeped in TT history and every one can tell a story of dramatic action, triumph, heartbreak, skill and bravery.
"In total there are approximately a hundred boards and all will be available to buy over the forthcoming months."
The money raised by the online auction will go towards running the event, which takes place every year in June.